Scalable SCADA Solutions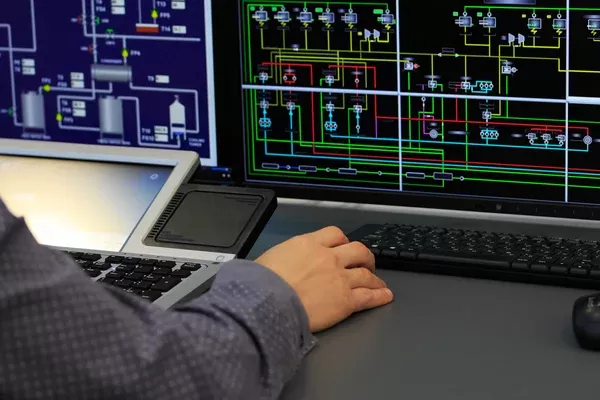 Scalable SCADA Integrated Solutions
BLTI specializes in the design, construction, and integration custom SCADA systems. This includes applications for water/wastewater and municipalities as well as food and beverage. Our engineering team has many years of combined experience in implementing PLC-based SCADA systems. We can provide complete project services including system planning, analysis, hardware configuration, PLC programming and communication network design and implementation, control panel manufacturing and commissioning, documentation and troubleshooting and maintenance.
Supervisory Control
You can monitor and control your equipment remotely from any location, centralized or mobile. System status and alarms can increase production visibility.
History and Reporting
Real-time process data can be collected, stored, and analyzed. Create custom reports, view historical trends and batch data, and generate custom reports.
Remote Telemetry
Wireless system communications make it easy to manage and control remote substations using a single command center.
HMI & PLC Programming
A screen with a consistent and clean UI design minimizes distractions and provides more context information to aid in situational awareness.
SCADA Programming Platforms
We are able to design, build, and integrate SCADA systems using most industry-leading platforms. We have extensive experience using these platforms and can make qualified recommendations to help you choose the best system for your needs.
Supervisory control software is developed with well-structured codes to make future updates and additions easier. The software UI was designed to be easy to use. This reduces distractions and helps you focus on important information.
SCADA System Features & Integration Services
Remote telemetry and integration of communication networks
Configuration of alarms, tags, and HMI graphics
Database configuration, history, and management
Remote access and mobile notifications
Programming, upgrades, integration of PLCs
Trending and Reporting
Documentation on Sequence of Operation (SOO).
Training, commissioning, and maintenance

Our SCADA Engineering Team
BLTI has a dedicated team made up of SCADA software engineers, who have been extensively trained and are certified using the leading SCADA platforms. To help you develop a plan for your SCADA software, our engineers will meet with you to understand your functional requirements, existing systems, and equipment.
Our engineering team performs extensive quality inspections, system evaluations, and factory acceptance testing before delivery and integration to ensure that your new system works properly and meets all your requirements.
Contact BLTI if you are interested in learning more about our SCADA systems integration process. We have a rich history or working with companies throughout the Houston area and the Gulf Coast of Texas.
Related Posts
By accepting you will be accessing a service provided by a third-party external to https://blti.com/